You don't come across Snellings, of Blofield, you have to look for it. Even then you may not find it at first, for it is tucked away in a field behind two residential estates between Little Plumstead and Blofield Corner. The easiest way to home-on to it is by use of a 100-foot mast as a guide. As you stand beneath it approaching the entrance for the first time, you will probably be there because a good friend has recommended you. (You may well be wondering if indeed you have come to the right place to rent a new TV or video).
As soon as you step inside, all doubts are dispelled, for here is one of the finest selections of radios, televisions, videos, and hi-fis in East Anglia, all carefully set up and working. The choice seems to be without limit and to take up the whole building. But busy noises behind and the chatter of a radio-telephone prompt the curious to take a peep into the engineering workshops which are just as huge.
Even the briefest glimpse of the facilities helps first-time visitors realise why this place ranks among the handful of leading television dealers in the country.
Small Beginnings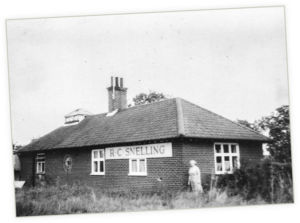 Started in 1954 in what was a hand laundry, and is now the office, Roy Snellings repair business took only £8 in its first three months trading.  Many thought it was understandable – with no shop window, and premises in the country.  Perseverance, hard work, and long hours proved them wrong so by the time television came to East Anglia in the late 1950s the word had got round that Roy Snelling was a man to get the best pictures from those weak signals.
Soon a showroom was added, the workshop enlarged, staff engaged, and radio telephones fitted to the vans.  So the one man business became a team, and has stayed that way up to the present day.
Staff
The present staff of twenty still includes three of the stalwarts of those early days. Kathleen Ellis keeps the paperwork in order, Hedley Watts is now senior television engineer, and Ivor Everett, who began in the servicing section with Mr Watts is now the shop manager. Mr Snelling still puts in a 12-hour day and despite changes that have taken place in the business, the team spirit is just as good as it was in the early days.
The success of the company today is largely due to these two factors, and chiefly "good customer relations". When new services, like Teletext, come on to the market first customers are usually given a courtesy call to see if they are satisfied.
Engineering
In spite of competitive rental charges, Snellings say their engineering standards are high. Each of the regular mobile colour television repair engineers carries over a cubic yard of spares with him and seldom leaves a service call without getting to the root of a problem. To cope with modern technology other engineers have specialised in video, hi-fi, and television panel repairs; each has his own customised workshop. Nor are black and white sets neglected: two separate workshops have recently been fitted-out for standard and portable versions.
Aerial work is passed to outside contractors who share the same radio-telephone link to cut down waiting time. This permits a joint service where necessary.
For handling the four phone lines, the radio-telephone, invoicing, accounts and customers who call, there is a separate team. Roy Snelling, who has never liked this side of the business, is happy to leave it to the women. His wife, Sheila, was both a typist and a nursing sister before they married, and the disciplines necessary for those occupations have proved invaluable in the systematic running of the accounts department.
At Snellings, where they say the customer is "king", they keep abreast of modern technology and in recent times have rationalised the number of agencies. In order "to continue to provide the best possible service", today they concentrate on only certain makes of colour televisions and video recorders to maintain a rapid service. Thanks to radio-telephone linking all outside staff with all the internal departments, field engineers are no longer alone with problems they face in the house. This degree of professionalism has brought a close link between the Snelling team and the local broadcasters transmitting staff, so that mutual assistance can be brought to bear on any propagation problem. This link, say Snellings, is especially useful with the introduction of Teletext – for although it is carried on the same wave as the picture it does not always behave in the same manner. Snellings offer immediate delivery from the entire range of different equipment stocked, and back up with a 'no quibble' service guarantee.
The Future
Snellings say the recession has proved that people still need a television to go home to no matter how badly the world kicks them around outside. Sometimes people opt for something cheaper but the colour rental side of their business looks like being the mainstay for some year to come, followed by video recorders. They find interest in Prestel, the Post Office's Teletext service is beginning to rise and in the case of people who use it for business, it can be a very cheap way of getting the latest television. On the horizon are the video disc, ITV2 (the fourth channel), stereo television sound, and satellite television.
The video disc, say Snellings, is to the video recorder what the record is to the music-cassette. It can only be played back, but offers "superb" quality, and could be cheaper than pre-recorded tapes.
ITV2 is due in about 18 months. All the main stations, including that at Tacolneston, will carry the opening programme. To make sure all their sets are capable of getting it Snellings have added an ITV2 signal to their internal network and all their new sets go out with one button tuned to the approximate spot.
Stereo television sound – today only heard in Japan and Germany – is limited in Britain to the BBC's simultaneous broadcasts with Radio 3. However, ITV2 are preparing some of their new programmes in stereo sound, but also two-channel broadcasting so that, for example, a viewer in Wales will be able to select an either English or Welsh commentary to a programme.
Satellite television is nearer than is imagined, say Snellings. Soon it will be cheaper to put up a satellite than to build a ground network like ITV2. Aerials lay in the garden and point into the sky. Good sets will be in the range of the Benelux and Scandinavian "downlinks' as well as with the British broadcasts.
Where They Are
From Norwich take the South Walsham B1140 road as far as the Brick Kilns public house, turn right, then first left after 400 yards, and right again behind Little Plumstead Post Office. Follow this narrowing road round until you come across the Snelling sign.
This is a copy of a feature which appeared in Norfolk Fair's August 1981 issue