History of Snellings
Founded from scratch in a disused laundry in 1954, Roy Snelling began selling Television and Radio sets from the very first days of transmission in February of 1955. Since then, we have been building our business and reputation on customer satisfaction.
Snellings key dates
R C Snelling has been serving the people of Norfolk since 1954
1953

Roy Snelling decides to start his own televsion sales and repair business

1954

R C Snellings opens in a disused laundry building in Blofield Heath, Norfolk

1955

Televisions starts to be broadcast in Norfolk

1961

The business expands with new workshops

1967

A new showroom is added to include colour televisions

1973

Colour television workshops are opened

1980

Roy Snelling brings satellite reception to Norfolk

1999

R C Snelling Charitable Trust is set up

2012

R C Snellings merges with Gerald Giles in Norwich city centre
The Beginning
There is no R C Snellings of Blofield without Roy Snelling, the founder. It was  in 1953 when a young radio engineer saw a headline in the local newspaper announcing that television would come to Norfolk. Roy realised that this was his moment and that it was now or never. With the help of friends he located the old Victorian laundry in Blofield Heath. His mother helped him to buy the property and set up the business. People thought that he was mad to think that people would be tempted out of the city and to visit a small shop in a village with infrequent buses.
With a great deal of hard work he was able to prove people wrong and by 1957 was employing engineers to help with the load. It was only due to Roy's cautious way with money, never taking on debt, that it took him this long. He wouldn't take on staff until he had earned enough money to pay them.
Around this time another very practical task was undertaken. As the staff grew and female office staff were employed, Roy's mother pointed out to Roy that he would need to install a toilet. Up to this time the all male staff had simply had to make use of a hedge behind the workshops.
In 1961 the business was extended with new workshops.  These were state of the art spaces where engineers could work in increasingly complicated television sets.  A new showroom was opened in 1967 and as colour television was introduced this was extended to include new colour workshops in 1973.
The Snelling Museum
It was at this time that Roy's second love was given its first home.  Roy was determined that Snellings should feature a museum of the old sets (radio and television) that people used to own in order they they wouldn't be forgotten.  The museum objects were displayed in the reception area for visitors to enjoy.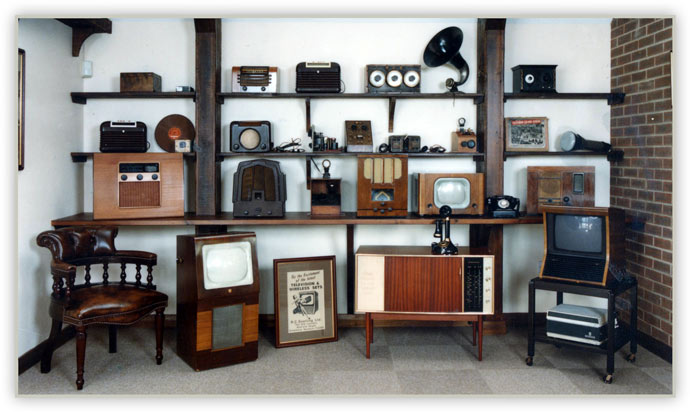 Satellite Television
Following a trip to America Roy was bitten by the satellite television bug.  Upon returning home he bought a specially made satellite dish that would pick up the only satellite signal available, a Russian one. 
The very first night that the dish was installed it was stolen.  This didn't deter Roy and he continued to expand into satellite.  Before long Snellings had installed a system at the University of East Anglia that fed through into their language laboratory.  With this system students were able to watch stations from across Europe and use them to help with their studies.
Snellings Workshop
Business continued to grow and in the early 1990s a new piece of land was bought and further workshops were built.  Opened in 1994, the new building had individual workshops for television, video recorders, satellite receivers and audio repairs. 
Snellings Business Systems
Snellings then went on to expand with Snellings Business Systems.  Here they supplied high technology audio visual solutions for business, educational facilities and local authorities and councils.  This venture was successful enough to necessitate yet another new building across the road from the original site.  At this time the museum was given a large room in the  building and visitors were treated to a large display of hundreds of items.  A dedicated group of volunteers which largely comprised ex-employees, were in charge of its daily operation.  When that building was sold the museum objects were put into storage until a suitable new venue could be found.

Where We Are Today
In 2012 Snellings went through a merger with Gerald Giles in Ber Street, Norwich.  These two friendly competitors joined to become a retail force to be reckoned with in Norwich and Norfolk.  Both companies have continued to grow and thrive.

Before retiring Roy made every effort to protect his company and staff whose hard work, loyalty and support were so valued by him.  He had seen smaller companies being bought out by national chains ans then being asset stripped and closed down.  He set up the R C Snelling Charitable Trust to run the businesses and protect the staff.  The trust also makes provision for local causes. As well as the Charitable trust Roy also formed the Shelroy Trust in 1988, a charity which accepts applications for grants from local people and groups.